Learn about our rich history that spans over almost 150 years.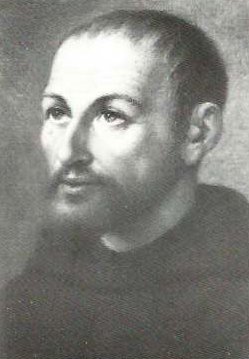 Much of our success can be attributed to Fr. Nicolas Barré who founded the congregation of the Infant Jesus Sisters in France in 1666, and whose pioneering spirit was the impetus for the Sisters to establish Saint Maur International School in Yokohama in 1872, and in the 1900's the five Japanese Futaba Girls' schools.
Our predecessors provided us with a solid footprint in the form of a sound governance model and decision-making process based upon a deep sense of, and commitment to their mission. Their foresightedness in doing so resulted in timely succession planning, stability and continuity, all of which continue to be necessary elements in assuring the success and sustainability of an international school, such as ours, which caters to a transient diverse student and parent population. While we hold fast to those genetic traditions and values which assure our survival as a school which is now totally managed by dedicated lay staff, we emulate those pioneering Sisters by embracing essential change, and through being mission driven, forward thinking and vision led, continue to navigate challenges and embrace new ideas and opportunities.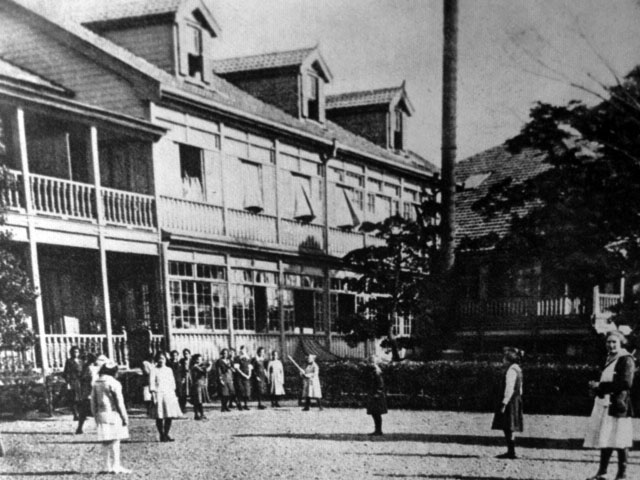 The school as it was before the Great Kanto Earthquake of 1923
Since our inception as an international school, the word "Catholic" has always been interpreted as all embracing and wide-ranging. This interpretation has assured our students, who, regardless of their faith, are required to participate in Religious Studies together, an opportunity to not merely "tolerate" differences, but to actually learn to embrace and celebrate differences and diversity, and through such an appreciation, come to the realization that, as human beings, we have more in common with each other than not. Such an approach has assured good collaboration and a strong sense of true interconnectedness between and among the over forty nationalities represented among our multi-cultural students and staff of all faiths.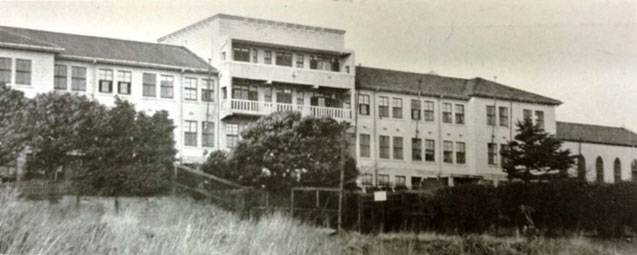 The school in 1955
As Fr. Barré and Mother Mathilde Raclot answered a call, we too, as a school within our realm as educators, and on reflection and alignment with our mission model, respond to meeting the needs of members of both the international and local communities. Responding to needs has resulted in us over the years becoming coeducational, establishing a weekly Toddlers' Group to provide young parents with an opportunity to support each other, and an after-school Prime Time Programme aimed at working parents who require after-school child care. Apart from a strong academic programme, students receive a balanced education through participating in a range of fine arts, sports and other activities. Our Robotics and Computer Science courses prepare students for the future. Again, in response to a need, ten years ago we founded a French section within our English-medium international school, enabling short-term French-speaking children to pursue their education, Gr.1-5, through the medium of the French language. One of the most successful programmes, founded in 1992, is our Adult Enrichment Programme, which is offered during the school day by volunteers. This programme which offers a range of over eighty activities annually at no cost to the participants, other than materials if applicable, demonstrates to students that learning is a life-long pursuit to be enjoyed, and that through sharing one's God given gifts and talents, lives are enriched. This unique programme, along with our Toddlers' Group reflects our commitment as a school to create life-long learners, in line with Fr. Barré's belief that as learners we develop and enhance ourselves, as well as provide every generation with opportunities to improve their quality of life, and that of their children and future generations of their children.
With the globalization of Japan, opportunities for us to collaborate with members of our host country have steadily increased. Working since 2009 in partnership with the Yokohama Science Frontier High School, which aims at creating the next generation of scientists, has benefited students from both our schools. Assisting Japanese schools who are pursuing the International Baccalaureate programme as a means of broadening the educational experience of their students, and providing in-service opportunities to Japanese teachers who are interested in knowing how English is taught within a multi-lingual classroom, something Japanese schools are having to face as the world becomes more transient and connected, are just a few examples of how we are working in partnership with others. These initiatives have further heightened our awareness of the need to pool our resources and work together if we are to address worldwide issues, such as eradicating modern day slavery, injustice and child abuse.
By being true to our mission and "Modus Operandi", which is our method and way of operating as a school from a position of faith, we are confident that the integrity of our mission will be preserved and will enable us and future generations, to face the many challenges which lie ahead. The Indian Spiritualist, Swami Chinayananda, once wrote, "Children are not vessels to be filled, but lamps to be lit." As children of God, may we, through our respective work and efforts, instill within our students and those with whom we work, a deeper sense of compassion and interconnectedness, so that our collective energy and efforts will provide everlasting fuel to assure our lamps serve as beacons of faith, hope and trust in our rapidly changing world.