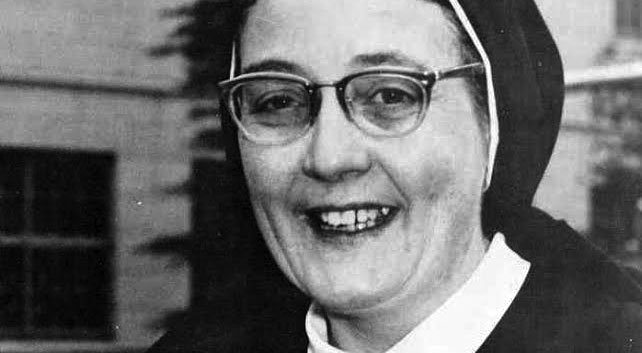 Yong-Lang Kwan
Passing of Sister Agatha Ahern on June 27, 2018
Sister Agatha Ahern passed away on June 27, 2018, in Ireland. During her many years of service, she contributed greatly to the overall success of Saint Maur International School, and was a well respected and admired member of the teaching staff and Sisters of the Infant Jesus. The following eulogy for Sister Agatha was shared with the community at her memorial  service on June 29.
Farewell for Sister Agatha Ahern - Juine 29th 2018

Welcome to everyone gathered for the Eucharist in thanksgiving for Sister Agatha's life – today being the feast of SS Peter and Paul . A special word of welcome to Sr. Beatrice, (Kit her sister), and to her many relatives, and friends from East Cork, Upton and Ballincollig. Father Tom Clancy is the celebrant of the mass and Richard the organist and Gertie will lead the singing. 

Agatha was born in 1924 and has journeyed far and wide over the years. She entered the Novitiate in Drishane in 1944. As was customary the young sisters spent a year or two in France and Agatha was in Montauban for a year before going to West Hill, London for training. Shortly after that Agatha was called to begin her missionary journey to Japan for26 years. She spoke at length about her time there and her many friends who still keep contact. Agatha spent 6 years with her ageing parents who needed companionship and care – this was a special calling when Agatha had an opportunity to catch up with family after her time away. She had a great love for her family and friends with whom she kept regular contact over the years and they with her. 

There still was another special call for Agatha. She accepted the invitation to join our Sisters in Upton who were then working with the Rosminian Community and Staff. This was a new challenge for Agatha to work with "the boys" with special needs. Change was part of our lives especially since Vatican 2 and with the closure of our Community in Upton Agatha came to live in Ballincollig, a small community which shared in the life of the people. Agatha was always keen to seek other commitments and was a regular visitor to nearby Nursing Homes. 

Agatha loved the sea and every year in Ballyferriter there were very few days when she missed a swim. One year as she dressed she could not find her Infant Jesus emblem- a silver cross. For several days in the month of June the Sisters searched the beach in vain. However in mid October Liam Tyres playing hurling with pupils on the beach, spotted the silver cross. Knowing it was something familiar to him he brought it back to Ballincollig and it eventually reached Sr. Agatha. 

In 2012 Agatha made a great sacrifice in joining our community in St. Joseph's. Here she kept us up to date with her stories from friends and what she read in the Examiner. She was grateful for the care she received from our Staff. Unfortunately the old bones gave trouble and her regular visits to the chapel became fewer and fewer until she was bed bound over the last few weeks. 
W e rejoice with her in reaching her heavenly home. 

Ar dheis De go raibh a h-anam dilis.