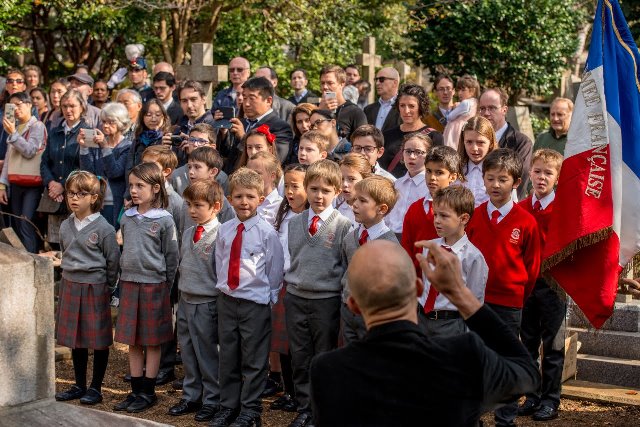 Gilles Gaury
11th November Ceremony at the Foreign Cemetery
On Sunday 11th November 2018, the French school students participated in the 100th Anniversary ceremony at the Yokohama Foreign Cemetery to commemorate the end of World War One (1914-1918), also called "The war to end all wars".
The ceremony, under clear skies and a warm weather was well attended by members of the French community and was honored by the presence of both the French and German Ambassadors who laid wreaths on behalf of each country by the French cenotaph, following a wreath laying ceremony at the German quarter of the same cemetery.
Both ambassadors highlighted in their addresses the need to fight for peace and reconciliation and to refrain from antagonistic behavior. Father Charignon, also addressed the attendees reminding all of the importance of forgiveness and love for your neighbor.
Two musician from the visiting Bagad de Lan-Bihoue played music before the students of the French school of Saint Maur International School sang the "Marseillaise" (National French Anthem) to the audience.
A moving letter for a soldier witnessing the end of the war was read to the audience by one of the Cadet from the Saint-Cyr Military school, stationed in Japan.
In closing, everybody moved to the inter-allied monument at the entrance to the cemetery, where the last wreath was laid by both ambassadors.
A picture album of the ceremony can be viewed here, thanks to Mr. Potier and Mr. Gabet's contributions.
Thank you to all who participated and to Mr. Kebe for taking the time to organize the choral on a Sunday morning.