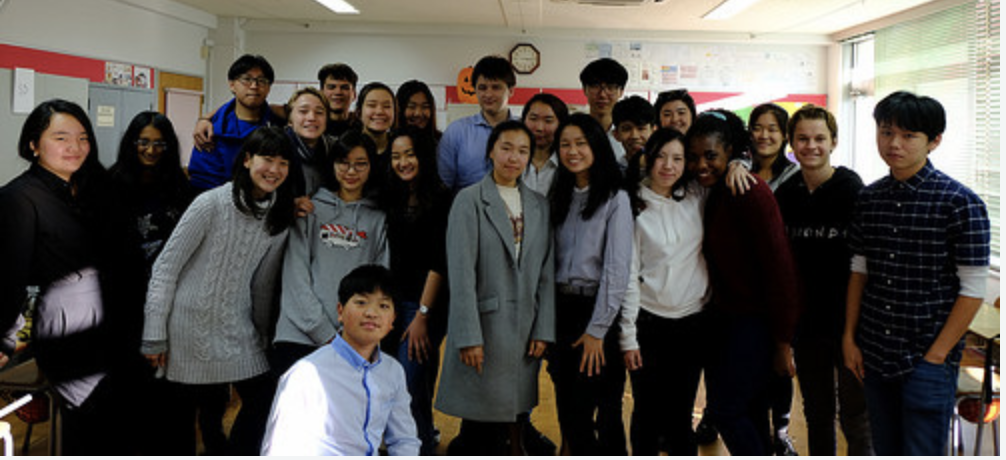 Christina Fürstenau
2018 KPASS Saint Maur Speech Contest Results
This year the Saint Maur Speech Contest team had a remarkably successful day at the annual competition, hosted by Seisen International School on Saturday 17 November 2018. A wonderful atmosphere was created by talented and enthusiastic students competing in a spirit of intensity and friendship. Our overall total was 67 points, placing us second amongst the six competing schools. This was 15 points higher than our third-place finish in 2017, and it also exceeded the 65 points that we scored in 2016 and the 66 points accumulated in 2014 when we tied for second place.
This year's point results are our best in over 15 years! This is especially outstanding, considering that Saint Maur is the smallest of the participating schools. It can also be said (and was, by several observers) that our team spirit and attitude, and the organization of our practices and coaching, are quite different from those of some of the larger schools.
The overall winner was St Mary's International School, with 77 points. Saint Maur was followed in third place by the International School of the Sacred Heart (ISSH), with 49 points. Christian Academy of Japan (CAJ) improved from 2017's last-place finish to come fourth, scoring 39 points. The host, Seisen International School, earned 36 points and a fifth-place spot. A surprisingly depleted team from the American School in Japan (ASIJ), the defending champions from 2017, scored 31 points to bring up the rear.
The twenty-three Saint Maur contestants won medals in all nine of the speech categories, including two Bronze Medals, five Silver Medals, and ten Gold Medals (six more than last year). The Multiple Reading Team was further honored by selection for an encore performance at the end of the competition, in front of hundreds of students and teachers. One of our Gold Medal contestants, Sherika Boliko, was singled out with an All-Star Award for the most impressive performance in her category.
The Saint Maur Speech Team continued its inclusive tradition, with members of many nationalities and cultures, and as always our team was the most balanced between boys and girls of all the co-educational schools. The contestants spanned the age range from Grades 6 through 12, including three Middle School students, with a balance of youth and experience that leads to continued success. However, they included only two 12th graders, meaning that next year's team can welcome back many seasoned veterans to build on this year's success.
The achievements of our students are due to their talent and hard work, practising despite their many other academic and club commitments, and to the dedication of the many teachers who volunteered to coach them. The higher standard of quality demonstrated by the participants from all schools is shown by the increase in Gold Medals, which are awarded for meeting a fixed standard, rather than limited by a numerical quota.
The whole Speech Team offers its gratitude to the Head Coach, Mr Nicolas Gregoriades. Together he organized the entire team, the auditions, and the rehearsals as always, while also coaching four categories. It should be noted that he was simultaneously in the final stages of production of two different versions of 1984, which faced the footlights the following weekend! Not only is he directing both versions, but he also adapted them from George Orwell's classic dystopian novel.
The twenty-three contestants representing Saint Maur had the benefit of individualized coaching and judging by a total of fifteen teachers, including three who joined the school this year. As usual, this was far more than any other KPASS school.
DRAMATIC DUO (Coached by Mr Peter Chalmers and Mr Nicolas Gregoriades)
GOLD MEDAL: Miriam and Ava
BRONZE MEDAL: Yūki and Ruri
Yūki and Ruri made their debuts this year, while Ava won her second Gold and Miriam improved from last year's Silver Medal.
ORIGINAL INFORMATIVE (Coached by Mr Brendan Agnew and Ms Tamara Bosnič)
GOLD MEDAL: Karen
SILVER MEDAL: Kyusok
Kyusok won a Bronze Medal in this category last year, while Karen made a successful first appearance.
STORYTELLING (Coached by Ms Alka Almoula)
GOLD MEDAL and KPASS ALL-STAR: Sherika
GOLD MEDAL: Shraddha
This was Sherika's second Gold Medal in Storytelling and her third overall in three years of competition. Shraddha's first performance was a great success.
MULTIPLE READING (Coached by Mr Nicolas Gregoriades)
TEAM GOLD MEDAL: Sophia, Luis, Yōko, Miyu, Rui
In 2016 Mr G recruited a team of 9th graders to begin building a new Multiple dynasties, striking Gold in their first attempt. Three of them are still on the squad this year—Yōko, Miyu, and Rui—joined in 2017 by Sophia and this year by Luis, both of whom had won Humorous Gold Medals in 2016. With a performance that required split-second timing and technical skill, they were a hit with the crowd and won a well-deserved Gold Medal. Since they were chosen for an encore performance at the end of the day, they were seen by over 400 students and adults.
ORIGINAL PERSUASIVE (Coached by Mr Campbell Boyd and Ms Catrina Martin)
SILVER MEDAL: Luna
BRONZE MEDAL: Pavlo
Luna won her second consecutive Silver Medal, and Pavlo persuaded the judges and the audience of his merit.
POETRY INTERPRETATION (Coached by Mr Ross Jonas and Mr David So)
GOLD MEDAL: Sarah
SILVER MEDAL: Yoonji
Sarah struck Gold in her first year, while Yoonji is one of the most experienced performers, winning four Medals in four years, including three in Poetry.
HUMOROUS (Coached by Mr Nicolas Gregoriades)
GOLD MEDAL: Jan
GOLD MEDAL: Yūka
Both medalists delighted their audiences. Jan won his second Humorous Gold Medal in a row, while Yūka won her second in two categories. This was one of the three categories in which both contestants won Gold Medals.
DRAMATIC INTERPRETATION (Coached by Ms Nickie Wong and Mr Nicolas Gregoriades)
SILVER MEDAL: Kirari
SILVER MEDAL: Charles
Charles made his Speech debut, while Kirari has won four Medals of every color in four years, including three in the Persuasive category.
EXTEMPORANEOUS SPEAKING (Coached by Ms Suzanne Seddon)
GOLD MEDAL: Pyokyeong
GOLD MEDAL: Maverick
In three years, Pyokyeong has won Bronze, Silver, and now Gold Medals. Maverick improved in his second year to win the top honors as well. Not only were these our first Gold Medals in this gruelling category since 2012, but this was also the first time that both contestants had won Gold since 1998!
JUDGES from Saint Maur: Ms Alka Almoula (Dramatic Interpretation), Ms Meena Beardsley (Humorous), Mr Nicolas Gregoriades (Poetry Interpretation), Ms Jennifer Schumacher (Multiple Reading), Mr Glenn Scoggins (Extemporaneous Speaking), and Ms Susan Yamada (Original Informative)