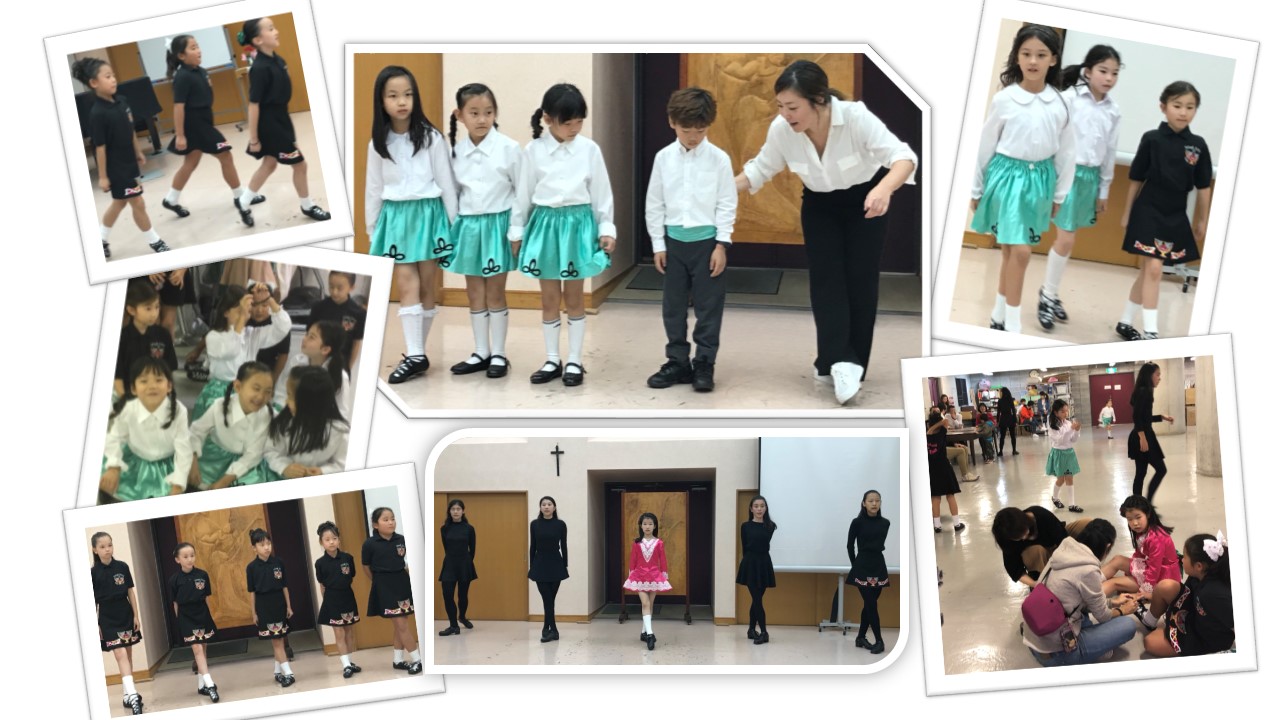 Gabriela Osada
In Preparation for Pope Francis's Visit to Japan, the Irish Dance Club
Last May, the Irish Dance Club received an invitation from the Director of the National Catholic Awareness Conference, Japan to perform at the Nicholas Barre Center in Yotsuya, Tokyo during the event, "In Preparation for Pope Francis's Visit to Japan, Catholic Awareness Conference of Japan – 2019".
Eleven students, from the Elementary and Middle School and six from Ardagh School of Irish Dance had a successful performance on November 2nd. Students arrived early afternoon; with the help of the parents to dress up and once the dancers warmed up, they were ready for the presentation. Although students had only a couple of months to prepare their steps and for the younger ones being their first public performance, the Irish Dance was a success.
Middle School students said "We thought performing at the church was a wonderful experience because of the culture we got to learn from practicing the Irish dance. The comments we received from the audience members were very encouraging. Overall we enjoyed performing very much and we feel very lucky to represent Saint Maur."
The Irish Dance Club Parent Coordinator and Gr. 3 parent mentioned "The dancers received great applause and the audience seemed very surprised to watch their skillful steps. The host said he was greatly impressed by the performance and would like to invite us next year too."
"I thought the performance went very well. A little hectic but with the kids that is to be expected. I also felt the audience really got into it with all the hand clapping for encouragement. It was a very lovely performance." commented another Irish Dance Club Parent Coordinator and Gr. 4 parent.
"The small children's first performance, though Tomoko Sensei was a little worried at the beginning, remembered the steps and danced well. The more experienced students presented an exciting dance with their multiple steps in hard shoes. It was the real Irish Dance performance the younger students and audience were able to experience." impressions of a Gr. 5 parent.
Shirasawa Sensei mentioned the students danced very well and was very proud of each and everyone. Being invited to such and important event outside Saint Maur was an honor.
Ms. Tomoko Shirasawa, instructor of the Saint Maur Irish Dance Club and Head of the Ardagh School of Irish Dance, based in Tokyo, teaches the students once a week after school. Ms. Shirasawa is registered in the Irish Dance Commission in Ireland and our club members have been fortunate to receive instructions from Ms. Shirasawa. Through her involvement with the Saint Maur Irish Dance Club, Ms. Shirasawa has enabled Saint Maur to expand from a rogue Irish Dance Club to a proper performing and competitive Irish Dance Community.
Our school congratulates and appreciates the students, parents and Shirakawa Sensei for their interest and commitment to share the culture of Irish Dance. We also thank the Director of the National Catholic Awareness Conference for the gracious invitation.