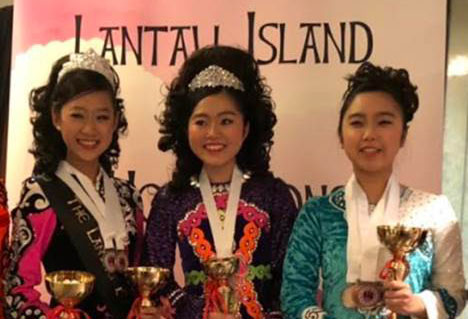 Gabriela Osada
Medals and Trophies from the Irish Dance Feis in Hong Kong
The Lantau Island Irish Dance Feis (Competition) in Hong Kong took place on October 27th, 2018 with the performance of four Saint Maur students: Gr. 4 Aya, Gr. 7 Rio and Rin, and Gr. 9 Anna. In this competition, approximately 100 dancers from Japan, China-Shanghai, Taiwan and Hong Kong performed. Our students challenged their technique, knowledge and experience in different categories bringing home a number of medals and trophies.
The youngest of the four students, Gr. 4 Aya, has been dancing since Gr. 2 when she first saw her friends Irish dancing at the Elementary School Club. She joined the club and in no time, she learned the steps and was competing for the first time at the Irish Dance Feis in Taiwan. "I was very nervous and did not win. But what I learned in the Taiwan competition helped me perform better this year with more confidence and I won ten medals and a trophy, one of which was 1st place," said Aya proudly after competing in eleven categories of her age group. She would like to continue dancing and learn more steps to perform in the advanced levels. She enjoys Irish Dance with heavy shoes and making new friends when she attends a competition.

Gr. 7 Rin started dancing when she was in Gr. 1. She is also a member of the Irish Dance Club and takes additional classes during the week. Her experience in competition is amazing; she competed in the 2017 Mainland European and Asian Irish Dancing Championships in Gdynia, Poland where she earned the right to compete in the 48th World Irish Dancing Championships 2018 in Glasgow, Scotland. In Hong Kong, Rin competed in two Open and one Premier Championship categories winning 1st, 3rd and 5th place. Because she was able to perform during the summer with the Trinity Irish Dance Company in Japan, it gave her the opportunity to learn and polish even more her technique in dancing. "This experience gave me more confidence when competing and I am very happy with the results. I look forward to the 2018 Mainland European Irish Dancing Championship in Amsterdam this November and hope to win 1st or 2nd place to compete in the 2019 World Irish Dancing Championships," expressed Rin.
Gr. 1 was the key for Rio, now in Gr. 7 to start Irish dance, enjoying the jig and excitement the competitions brought to her. ""Learning from others at the Lantau Island Irish Dance Feis was one of my goals. It inspired me to continue practicing more so I can become a better dancer and perform in the European competition. It is really wonderful to know people that are all around the world," said Rio. She performed in the Open and Premier Championship categories, also returning home with several medals and a trophy.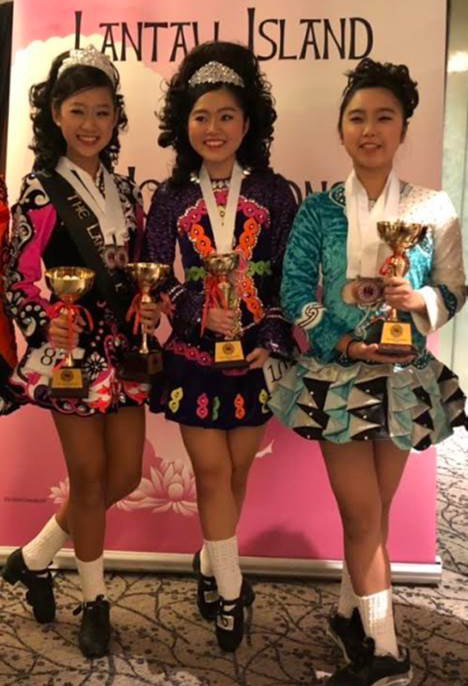 Last but not least, Gr. 9 Anna has been dancing since the end of Gr. 1 when she first came to Saint Maur and joined the Irish Dance Club after seeing her friends perform the steps of the Irish jig. Two years into the Club, she decided to take Irish dancing seriously, begun practicing up to three times a week taking her to her first competition in Gr. 4. After a couple of Irish Dance Feis, this year, she performed at her third competition winning 5th place in the Premier Championship category dancing the Slip Jig and Heavy Jig. "I enjoy dancing and meeting many other dancers from different countries which has taught me that we experience and struggle with much alike aspects of Irish Dance. I like to interact with others who have similar interests as I do and learn from them to be a better dancer for the next feis," said Anna. Because Anna was able to experience in yet another competition she will be performing in the 2018 Mainland European Irish Dancing Championship in Amsterdam this November as well.
Ms. Tomoko Shirasawa is the instructor of the Saint Maur Irish Dance Club and Head of the Ardagh School of Irish Dance, based in Tokyo for almost 10 years. Registered in the Irish Dance Commission in Ireland, our club members have been fortunate to receive instruction from Ms. Shirasawa. Through her involvement with the Saint Maur Irish Dance Club, Ms. Shirasawa has enabled Saint Maur to expand from a rogue Irish Dance Club to a proper performing and competitive Irish Dance Community with levels from beginner to this championship.
This year, 12 dancers from the Ardagh School of Irish Dance performed in this competition. "Aya, Rin, Rio and Anna did a great job and made friends there. I am very proud of them and excited that Aya and Rio escalated to the next level which is very important for an Irish dancer. Furthermore, Rin and Anna are performing in the 2018 European and Asian Championships which will be held in Amsterdam from November 30th to December 2nd. The winners of this competition will be able to perform at the 2019 World Irish Dancing Championships in Greensboro, North Carolina, U.S.A.," said Ms. Shirasawa.
We are very proud and congratulate Aya, Rin, Rio and Anna for representing our school and achieving important results in the Irish Dance competitions.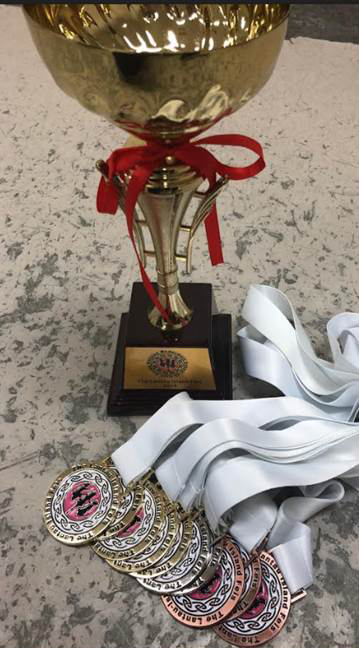 Good luck to Rin and Anna at the European and Asian Championships!