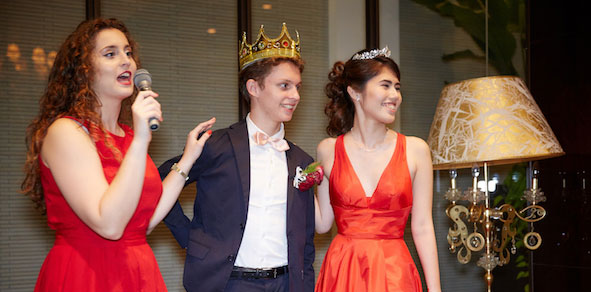 Yannick Crespy
Prom 2018 - A celebration for the classes of 2018 and of 2019
On Friday 18 May, Saint Maur's glitterati gathered at Iseyama Hills's Grand Venezia ballroom, in Yokohama, for the annual Junior and Senior Prom.
This was the Seniors' first celebratory event in the run-up to their graduation on Saturday 2 May. The mood was decidedly festive as the Prom Committee members were busy putting the final touches to the ballroom and cheerful guests were arriving in their regal suits, gowns and dresses. The students were in good company as Mrs Yamada was their guest of honour, to celebrate (and lament!) her retirement this year. They all remember the economics-themed Promposal which took place in the auditorium a few weeks back. The festivities were officially opened by Mr Matsumoto's toast, upon which an a la carte four-course meal was served, before students and chaperones launched onto the dance floor to show a few dance moves. Other guests chose to go all Vogue, and struck poses at the photo booth where our photographers, Mrs Jaroscakova and alumnus Avkash M., were hard at work. Then came the Great Reveal of the 2018 Prom Court! Our congratulations to Mr Gregoriades for winning the Most Original sash, to Pieter and Aya for Best Couple, Phoebe and Jenson for Princess and Prince, and finally to Céline and Pieter for Prom Queen and Prom King.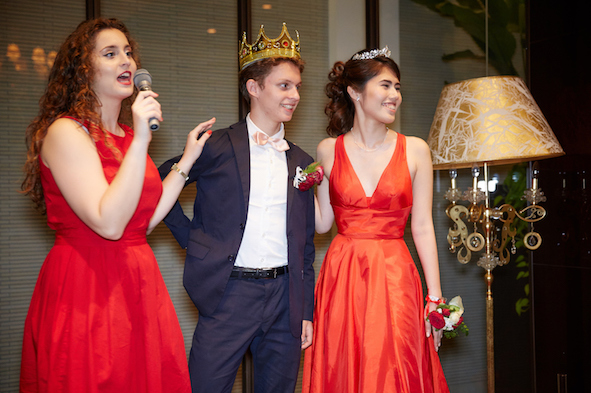 Another successful event, another sparkling Prom. Watch this space for more Graduation-related articles.