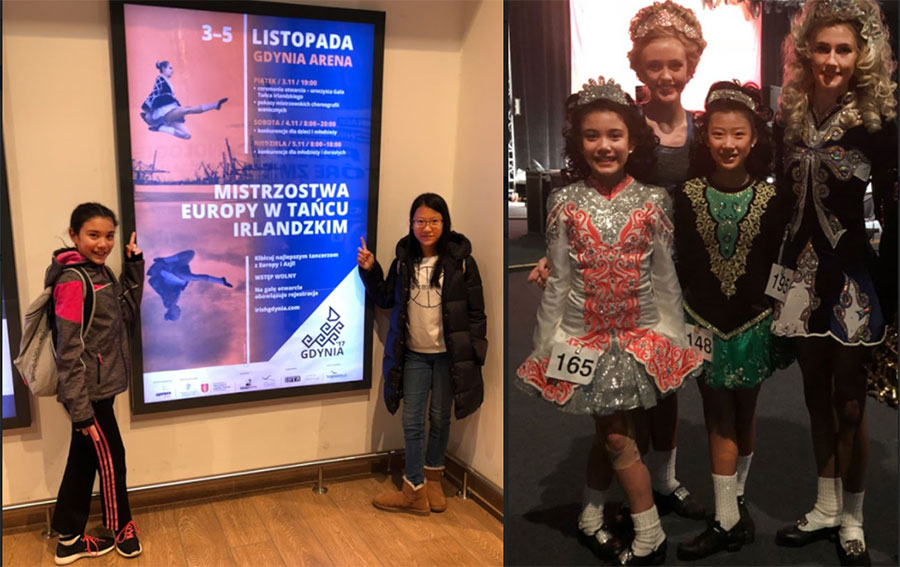 Gabriela Osada
Rin and Lea, Japan's best positions in the 2017 Irish Dancing Championship
Last November 4th, 2017, our Grade 6 students, Rin and Lea competed in the Mainland European and Asian Irish Dancing Championships 2017 in Gdynia, Poland. This event hosted the best dancers from Europe and Asia and we are proud that two of our students represented Japan. Rin placed 4th in the Under 11 Girls group and Lea, 8th in the Under 12 Girls group.
But what is Irish dancing? This dance, originated in Ireland, is known to be a distinctive and very artistic form of dance, requiring athleticism and flexibility. Dancing under the recognizable steps being it a jig, a reel or a hornpipe, Rin and Lea achieved Japan's best positions in these groups.
Lea started dancing when she was in Montessori and since then continues participating in the Irish Dance Club, taking additional classes 2 - 3 times a week. Before the competition, she trained 1 hour everyday. Lea said, "Dancing makes me happy, it gets my stress out and although competitions are stressful and you may not get the result you want, I am always relieved and happy as long as I try my best. I have been in 6 competitions all over the world. You never know how good you can dance, you depend on yourself and have rough times but I have learned to never give up on yourself, learn from your mistakes, and do the best you can."
Rin started dancing when she was in 1st grade. She is also a member of the Irish Dance Club and takes additional classes during the week. She likes Irish dancing because it is fun and feels she can dance all day long. Last summer, she chose to go to the competition and trained very hard for months. Rin said, "I learned during this competition that there are better dancers than me. Felt nervous competing with 8 other girls but did my best and I am very happy I got 4th place. I want to thank Saint Maur because it introduced me to Irish dancing." Rin will be competing in the 48th World Irish Dancing Championships 2018 in Glasgow, Scotland.
Sara and Rebecca Zack, former students from Saint Maur also competed. Rebecca placed 2nd in the Under 15 group and Sara, 1st in the Under 17 group, both representing Russia. Sara and Rebecca´s mother, Mrs. Deanna Zack, initiated the Irish Dance Club in 2007 under the support of Sr. Carmel, Ms. Thomas, Mrs. Endo, Mrs. Engstrom, and Ms. Kwan. Mrs. Zack once mentioned that, "...the Irish Dance, is not only about dancing but about the community and relationship: a place everyone is welcomed, a place children work to the best of their ability in a supportive team environment, yet growing as individuals. The Irish Dance Club has worked very hard so no child feels excluded, to share time with all Clubs and activities, and support the teachers and Saint Maur community and alumni."
This article cannot end without mentioning Ms. Tomoko Shirasawa, instructor of the Saint Maur Irish Dance Club and Head of the Ardagh School of Irish Dance, based in Tokyo for almost 10 years. Registered in the Irish Dance Commission in Ireland, our club members have been fortunate to receive instruction from Ms. Shirasawa. Through her involvement with the Saint Maur Irish Dance Club, Ms. Shirasawa has enabled Saint Maur to expand from a rogue Irish Dance Club to a proper performing and competitive Irish Dance Community with levels from beginner to this championship. "There were dancers from Europe, Middle East, and Asia. It was a tough competition however Rin and Lea danced beautifully!!! Moreover it was the first time for Japan to be placed in this age category." said Ms. Shirasawa.
We are confident that Rin and Lea will continue to succeed in Irish Dancing and wish them the best. Congratulations!