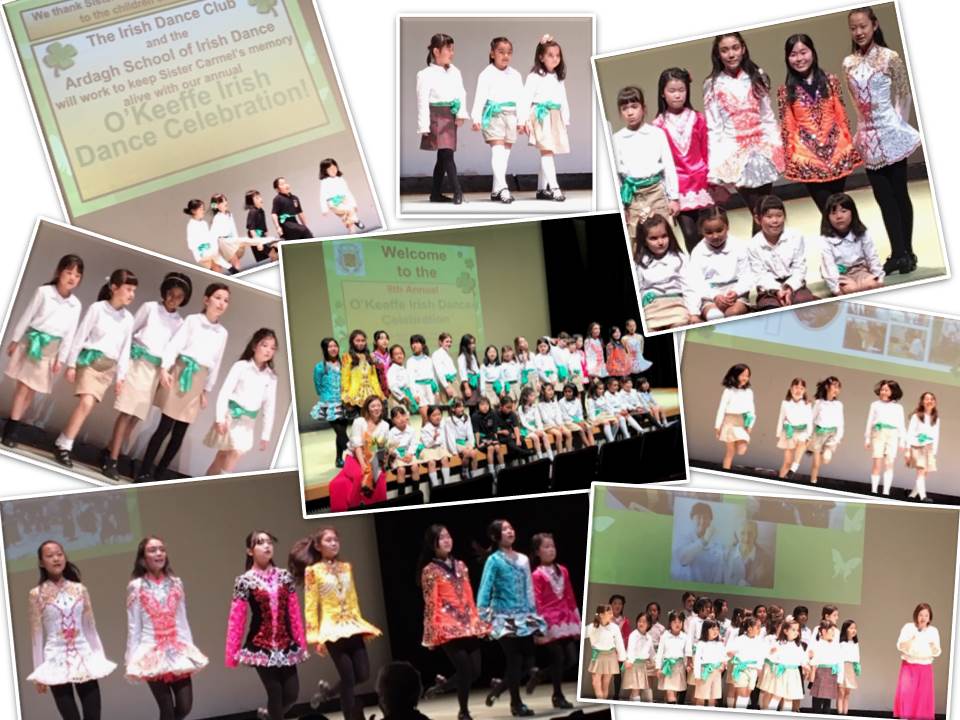 Gabriela Osada
The Successful O'Keeffe Irish Dance Celebration Continues
The Eighth Annual O'Keeffe Irish Dance Celebration took place on Thursday, March 21st, 2019 in the Saint Maur Fine Arts Auditorium with the performance of 30 students from Elementary to High School.
The Celebration began with the youngest students from Grade 1, dancing their learned steps along the music. Then it was followed by the upper grades, all the way to the Middle and High School students, who showcased the well known Irish Dance steps. It was an event full of energy with the audience clapping alongside the rhythm. After almost an hour of various dance performances, the O'keefe Irish Dance Celebration came to an end with an ovation to all the students. Ms. Shirasawa, instructor of the Irish Dance Club congratulated the students and thanked the parents that supported all of their events. Ms. Shirasawa was presented with a beautiful flower bouquet as a token of appreciation of all the hard work during the school year.
"The Irish Dance Club had a successful 8th Annual O'Keeffe Irish Dance Celebration in the auditorium. I hope every dancer enjoyed performing on the stage. Thank you for your help and support as always, especially to the parents, staff and Tomoko-Sensei!" expressed Mrs. Kitaoka, 2019 Irish Dance Club Parent Coordinator.
This celebration is dedicated to Sister Carmel O'Keeffe who served Saint Maur for over 60 years as a teacher, principal, head of school, and chair of the board.
Ms. Tomoko Shirasawa, instructor of the Saint Maur Irish Dance Club and Head of the Ardagh School of Irish Dance, based in Tokyo, teaches the students once a week after school. Ms. Shirasawa is registered in the Irish Dance Commission in Ireland and our club members have been fortunate to receive instruction from Ms. Shirasawa. Through her involvement with the Saint Maur Irish Dance Club, Ms. Shirasawa has enabled Saint Maur to expand from a rogue Irish Dance Club to a proper performing and competitive Irish Dance Community with levels from beginner to this championship.
The community of Saint Maur International School congratulates the Irish Dance Club with their exceptional performance.