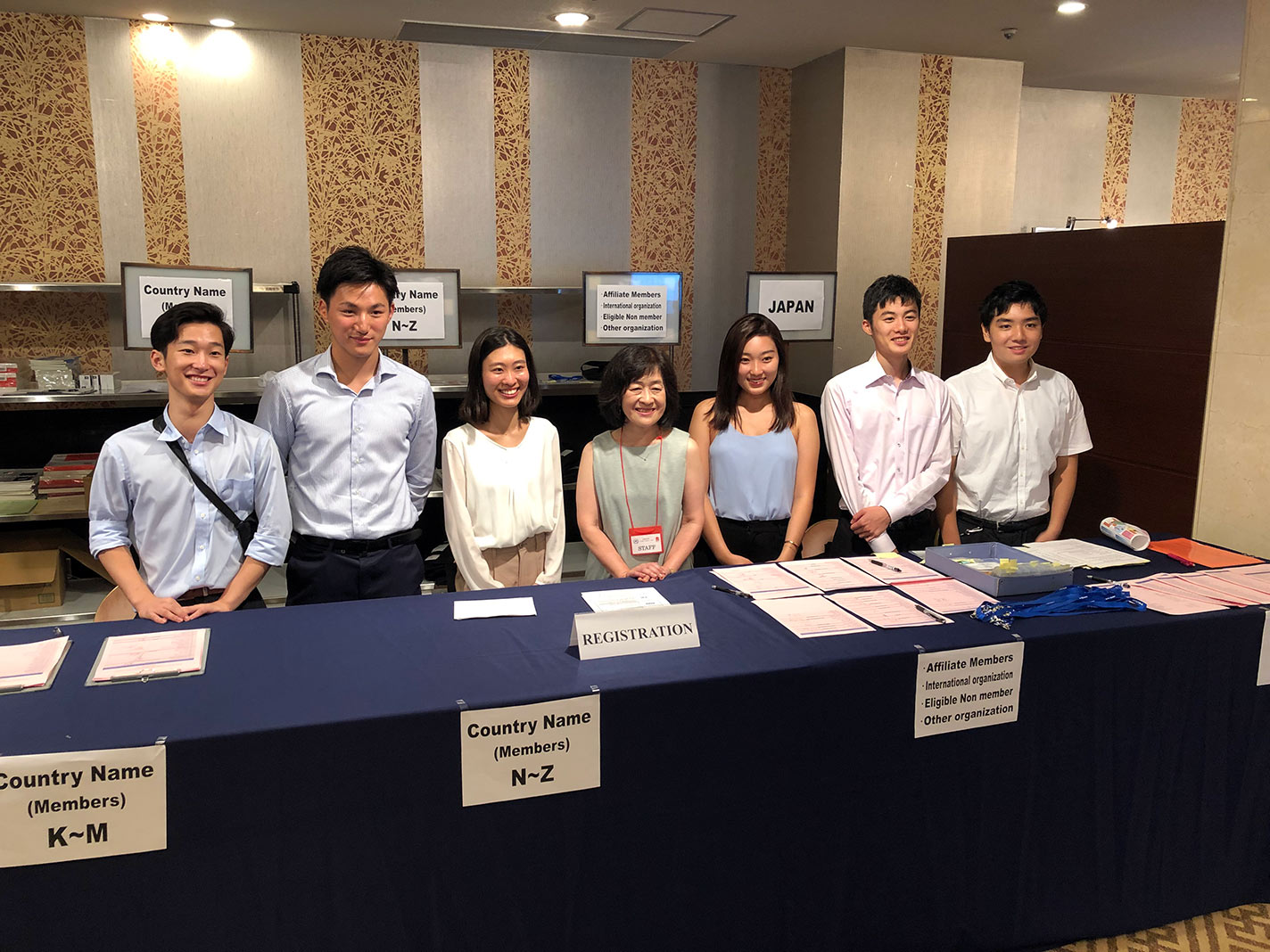 Koshizu Tanaka
Young Graduates Receive Praise at International Conference
The 5th Meeting of the Asia Pacific Telecommunity (APT) Conference Preparatory Group for World Radio Conference (WRC-19) (APG19-5) was held between 31 July - 6 August 2019 in Tokyo sponsored by Ministry of Internal Affairs and Communications (MIC) and supported by the ITU (International Telecommunication Union) Association of Japan.
Four Conference Assistants were initially hired to include a graduate from the Class of 2018. However, ITU Association of Japan soon realized the need for 8 more. That is when Saint Maur connection spread. Three students from ICU (International Christian University) from Class of 2017 were first hired. Then four more from the Class of 2019 were hired. Well, doing the simple math, there should be one more. That's me. I became involved due to my husband's job to host this conference.

They needed college students to assist with pre-registration and registration for 600 participants from Asia Pacific regions and I introduced these students to the job. At the same time, I was asked to work with them and to MC at the Opening Session.
I would like to share with the Saint Maur community the joy and pride I felt as a teacher, a graduate, and a mom of two Saint Maur graduates while working as a conference assistant, myself.

These eight student-assistants were brilliant. They assisted in setting up the registration table, greeting the participants, checking their passports and giving them conference badges and bags, and finally ushering them to the seats. They also checked around the lobby during coffee break to make sure that everything was in order. In the same lobby, there were exhibits sponsored by the Ministry of Internal Affairs and Communication, and National Institute of Information and Communications Technology (NICT). There were personnels from these exhibitors who quickly recognized the efficiency of these student assistants. Before the end of the second day of work, these personnels came to the ITU office simply to ask where this group of student assistants came from and how they were recruited. They were amazed and impressed by these young fellows, as well as surprised to know that four of them were not even college students yet. They offered to give us presentations of their cutting edge technology (during paid hours!). Seeing the attitude of these students, the other exhibitors from KDDI, Soft Bank, and NHK also offered to give presentations. A member of NICT was also a "career planner" who has a job to train company administrators, talked to me to praise our graduates for the quality of character.
Most of them worked for the first two days or just the second day. However, the students have left a lasting impression on these people who work globally. These representatives wish to hire Saint Maur graduates as student assistants at other occasions, and hopefully work with them as colleagues in not far away future.

The ITU Association of Japan thanks me for bringing in these graduates who are so intelligent, polite, efficient, hardworking, cheerful, etc.

It is these positive Saint Maur student characteristics and profile that we wish to continue instilling in them from their student life experiences at Saint Maur. I must repeat how proud I was as a teacher, a mom of graduates, and a graduate of Saint Maur during the conference. I would also like to mention that being a graduate of ICU, I got another credit for being an upperclassman to five of these student assistants.