Dr Guillaume Erard
Special Lecture on Nutrition Science by Dr Shirley Tamura
Continuing on our effort to bring real world science to the classroom, we received our first guest of the year, Dr Shirley Tamura (MPH, RD, DrPH), a nutritonist who was involved in research for a number of years at Harvard and U.C. Berkeley's Schools of Public Health.
Dr Tamura has experience in clinical dietetics, food science in schools and hospitals, public heath nutrition for the city of San Francisco and Oakland, CA, nutrition-epidemiology research on longitudinal cohort studies, research with CDC and Prevention designing BRFSS survey for Vietnamese population in USA, health promotion campaign for chronic disease risk reduction, nutrition education from preschool, kindergarten, grades 1-12, collegiate undergraduate nutrition, and graduate nutrition-epi research. Her areas of interest are mostly in chronic disease risk reduction and prevention of cardiovascular disease, including heart attacks, and diet-related cancers, which she believes is a misnomer because aerobic exercise, rather the lack of it, is a stronger risk factor of cancer incidence than diet by 3-fold.
Dr Tamura explained to our Grade 12 IB Biology students that the population-based recommendations are based on numerous studies of large cohorts of healthy non-institutionalized adults from all over the world in order to be used for some very basic recommendations for long-term chronic disease risk reduction.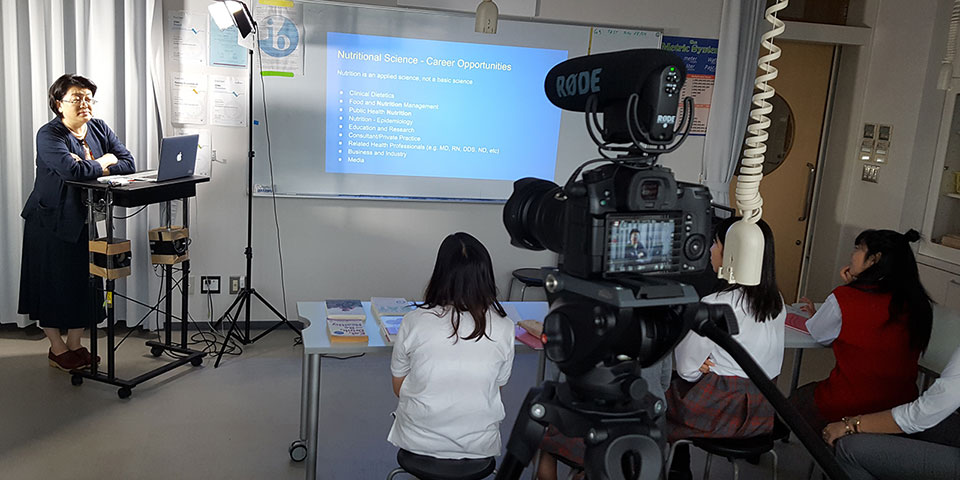 Dr Tamura suggested that the field of nutrition-epidemiology is good for people looking into the medical fields who enjoy research but not necessarily patient care. The field has grown due to advances in computer technology that has facilitated our use of statistical models.
We are very grateful that Dr Tamura offered to share her knowledge with our students, thereby expanding the IB curriculum and bringing it to the real world. The lecture and slides are accessible to Saint Maur parents and students here.