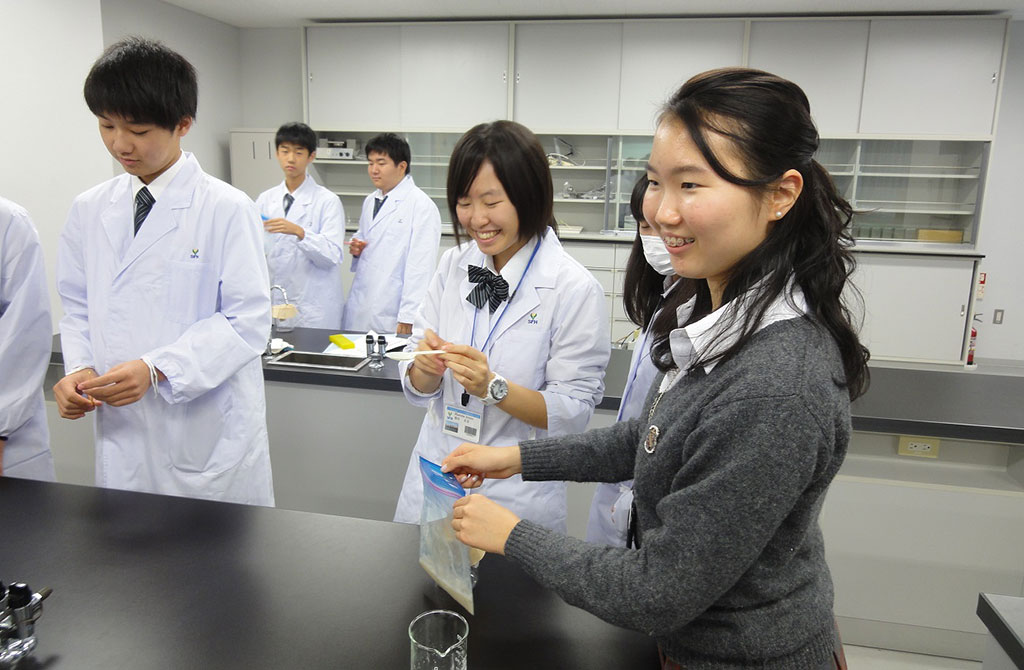 Karen Sato & Pyokyeong Son
Three Days at the YSFH Science Immersion Camp
Several of our students were invited to take part in the Yokohama Science Frontier High School Science Immersion Camp that took place over three days. Please enjoy those reports from two of our students.
Karen's Report:
From the moment I set foot into the YSFH campus, I was in awe of the facility and the number of labs they had. Ayane, who was my guide for the three days warmed me with open arms, and so did everyone else. She told me about the school, and showed me around the campus, explaining what kind of experiments were done at each lab. Seeing people at the same age as me who are also equally interested in science as I am, working diligently in their labs and writing up reports sparked a sense of motivation in myself.
In the beginning, I was worried due to the fact that I had a number of classes in one day, some of which I have never studied about. However, once the classes started I found myself being completely immersed in all of the subjects. I personally enjoyed astronomy class the most because it was always something I had been interested in learning about, however never had the time to learn it. Although it was a small amount of time, I learnt the concept of Hubble's law, and how to calculate the age of the universe using various equations.
Before the camp, I knew that I had an interest in science, however did not quite know which area I would want to specialize in the future. Taking a variety of classes has not only helped me to expand my knowledge, but it has helped to finding what I really want to learn and pursue further later on.
The teachers were also such inspirational people, and offered me help whenever I had asked them anything. To some of them, I asked the question which I was dying to know. When I asked them, "How did you come to studying about what you are now?" they all replied with the same advice. They explained to me that they took a variety of classes and said that one day, you find what you will want to specialize in. Although the advice was somewhat vague, it felt like a push on the back, telling me to get out of my comfort zone to try new things out.
I believe I have gained so much from such a short amount of time. Not only did I gain more knowledge in many topics, it gave me motivation to work harder, and made me realize that I need to try new things out more often, which will ultimately help me find out what I want to pursue.
Pyokyeong's Report:
Despite my interest in science, I have always fulfilled my scientific curiosity in solitude; most of my friends did not have as deep a level of appreciation towards the subject as I did, and my teachers had priorities of teaching everyone together.
This is not to say, however, that I did not consider science as a fundamentally collaborative activity. I am aware most research or studies are done as a team, and even if a person works alone, they would not get too far without advice, or any previous work. As Newton once said, "I am standing on the shoulders of giants;" it is just that I haven't done really exciting, collaborative, science before.
So, the experience during the Science Immersion Camp was quite new to me. First, there was the fact that this was school mainly taught in Japanese; I was unfamiliar with the Japanese school culture, and I initially had a hard time communicating with my buddy. One particular thing, however, that we both were interest in, was physics; he was planning to take the subject next year, and I was thrilled to find somebody that was genuinely interested in it—not as an academic subject, but as a true interest. I was able to break the ice with some physics discussion, and also got comfortable with my group members during the process. I was surprised to meet a person in my age group that all shared the same excitement towards science, and that talking about it was considered a natural conversational topic.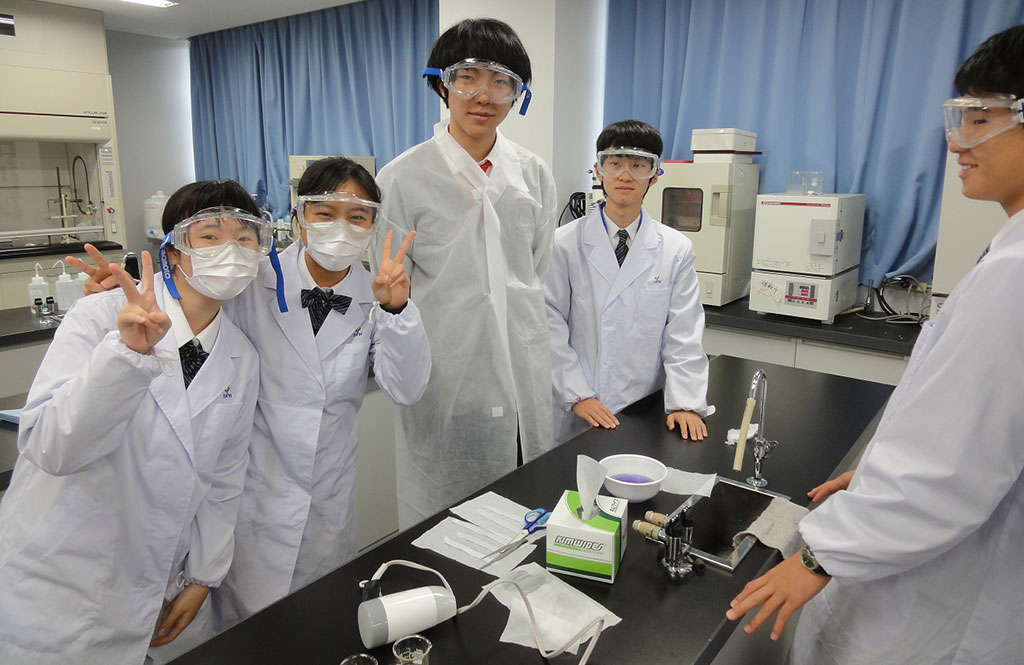 Second, was the classes. Though I am lucky to study in a school equipped with various scientific equipments, I have to admit, the facilities in the Science Frontier High school was more advanced. The majority of the classes I took was in the labs, and with practical experiments—many that I only learned in theory. It was fascinating to see results that matched the theories that I had learned. I especially enjoyed the astronomy class, during which we calculated the age of the universe using Hubble's constant, calculated by spectral data collected from real observations.
In the closing assembly, one of the guest teachers said that the basis for scientific research is communication, and more and more of that is done in English. I was lucky to participate in this camp which not only taught me, but let me experience those words myself, and shifted my view on how science is done—with communication and collaboration.