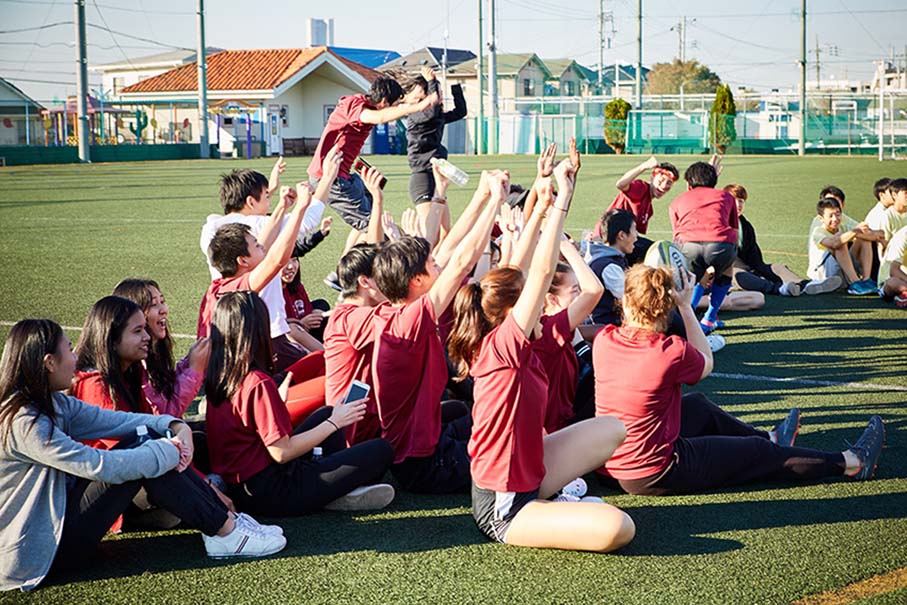 Christina Furstenau
2018 Elementary, Middle and High School Sports Day
On Friday, November 2nd we held our annual Sports Day for Elementary, Middle and High School. It was beautiful weather and a fantastic day was had by all.
In the Elementary School Sports Day, held at Futaba Field and the Saint Maur Interim Gym, the champions were the Blue Team who came from behind in a dramatic victory! Students showed their speed, strength and skills in a number of team sports and individual events such as Tug of War, Benchball, Sprints and Javelin Rocket Throw! Well done to all the children who gave their best efforts, showed great sportsmanship and cheered on their team so enthusiastically!

In Middle School, the Grade 6 students supported the Elementary Sports Day while Grade 7 and 8 held Sporting Fun events at the Saint Maur Interim Gym and Peverley Place. In the afternoon, the Grade 6, 7 and 8 homerooms went head to head in a battle for Middle School supremacy! Each student entered a number of different athletic events and at the end of the day, the champions were 8G. Congratulations!
For the first time in Saint Maur history, the High School Annual Sports Day took place in the Yokohama Country and Athletics Club (YC&AC). It was a sunny, crisp morning and High School students were in high spirits, competing against each other in events such as handball, volleyball, soccer and even bowling. Some highlights of the day included the Grade 9 students beating the Grade 12 in a heated match of volleyball and lively matches of handball which resulted in some bumps and bruises but no hard feelings. Some other highlights included the jump rope competition which challenges the students' teamwork and communication skills. At the end of an eventful day, Grade 12 students came first, winning by a margin of 8 points. Grade 10 students came in second place, with Grade 11 in third place and Grade 9 in fourth place. Despite the latter's last place ranking, they were awarded a special Sportsmanship Award for their respectful game play. The winning team was awarded funds which will go towards their Senior Trip.

The Sports Day was by all accounts a very successful day. Many thanks to all of the student helpers, all the teachers and staff who helped to set-up all the equipment and run the events, all the parents and PSG who helped organize the refreshments stand, Futaba School and YC&AC for hosting us and of course to the students who did such a great job! See you all again next year!