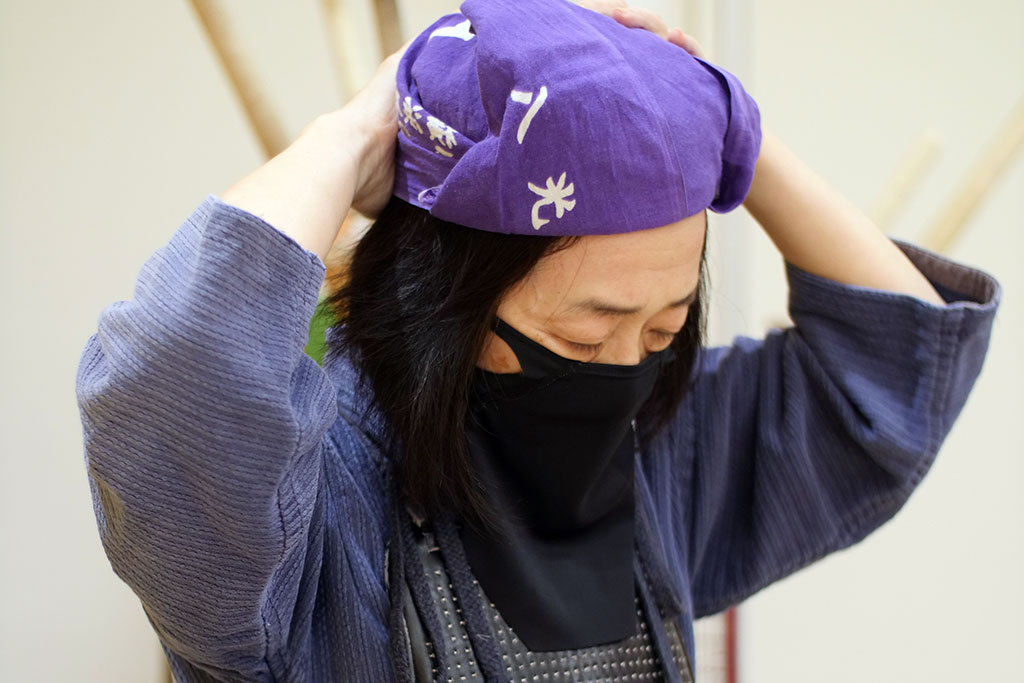 Koshizu Tanaka
Saint Maur Kendo Teacher Tanaka Sensei Promoted to 4th Dan
On February 13, 2022, I went to Kanagawa Budokan to take a promotion exam administered by Kanagawa Kendo Federation and passed the exam to receive 4th Dan in Kendo. In Kendo, 4th Dan and above are considered to be instructors' ranks and therefore suitability as an instructor is one of the criteria for passing the exam.

The exam consists of three subjects, namely Jitsugi, Nippon-Kendo-Kata, and Written Test. Jitsugi is an actual Kendo bout against 2 other examinees. Beginning with the 4th Dan, the candidates taking the Jitsugi exam are not grouped by gender. In my case, both of the bouts were against men. There is no win or lose during each bout. The candidates are expected to show evidence of an appropriate level of training, and the degree of technical proficiency and stability acquired through the course of training.
The six examiners are of 6th dan or above and with four or more of these examiners accepting the promotion, the candidate passes the first subject. As soon as all bouts were over, the examination ID numbers of those who passed this first subject were posted in the middle of the dojo where I found mine.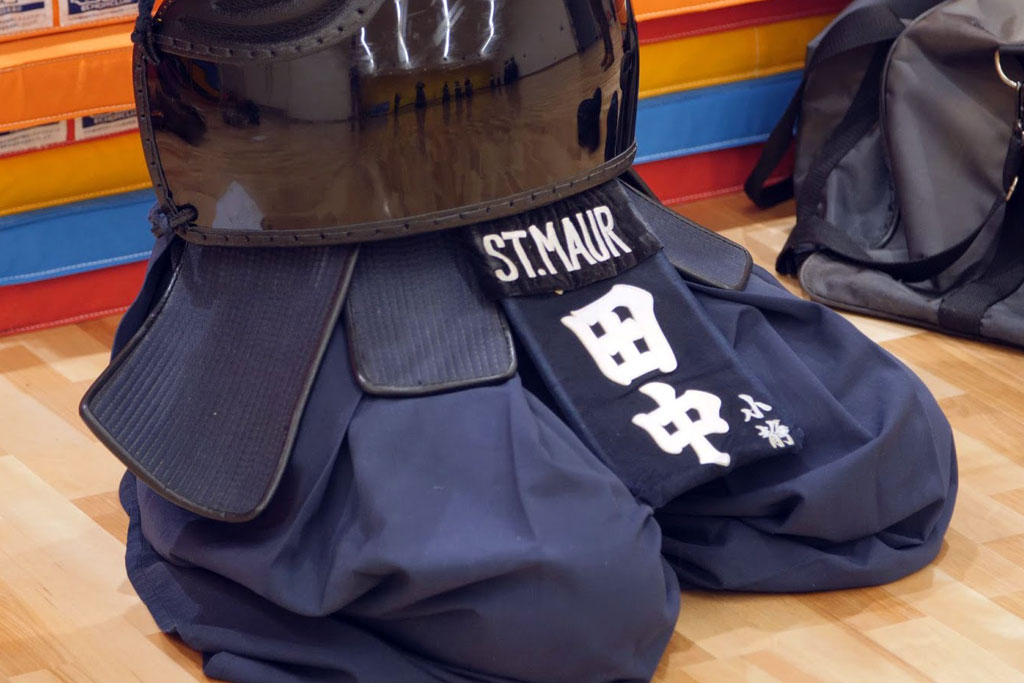 We then submitted a Written Test consisting of 2 questions on training and philosophy. The questions that were given to us were: 1 Explain "uchikomi geiko" (a type of training to make strikes continuously and correctly) and describe points of attention when leading the training. 2 Explain the frame of mind and preparedness expected of a Kendo instructor. The answers had to be hand written on a prescribed answer sheet with 15 narrow lines per answer. When I passed my 3rd Dan, we used to take this part of the exam on the floor of the dojo. Now we receive the questions beforehand and bring the paper for submission, which is quite a relief.
The final but crucial Nippon-Kendo-Kata, began as we were quickly organized to line up and I met my partner. We were given no time to make any sort of arrangement with one another and with one loud commanding voice of "Hajime!," 5 pairs of candidates in my group started our moves for Tachi-no-Kata 7 forms and Kodachi-no-Kata 3 forms.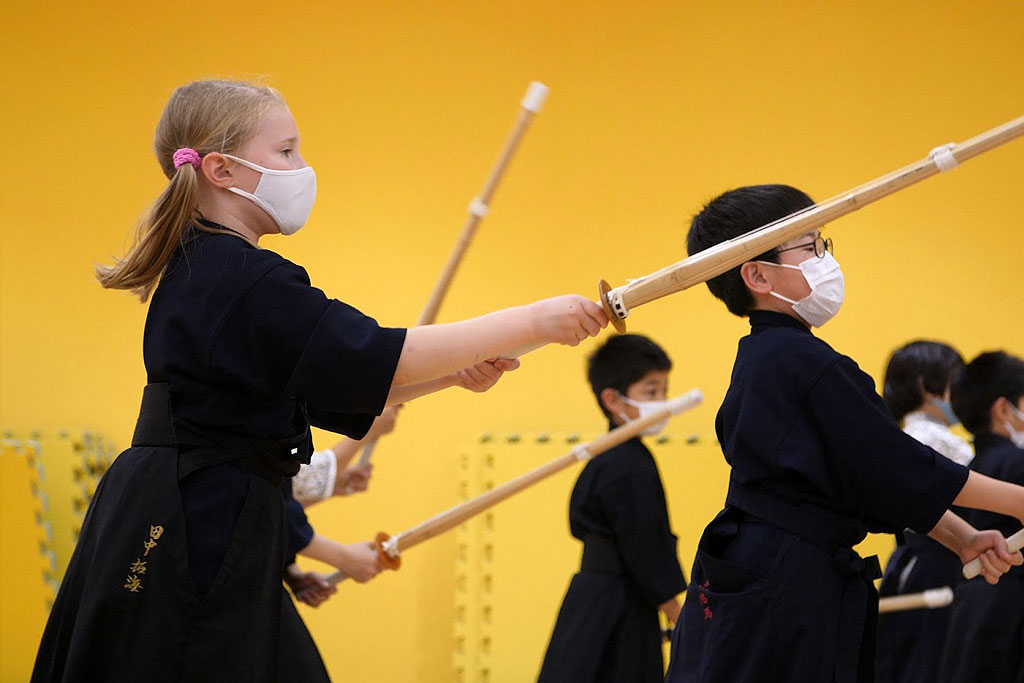 Kata consists of predefined sets of attacking and defending movements. For Tachi-no-Kata, both of us use wooden long-swords against each other, and in Kodachi-no-Kata, one person of the pair who is randomly assigned just at the beginning of the test takes the position to use a wooden short-sword. In my case, I was luckily assigned to use the short sword that I preferred. After a few moves, I heard some examiners whispering that someone had made a small error. I tried to concentrate on my own moves by reassuring myself that they were not talking about me! The examination program moved swiftly as if all examinees had also rehearsed the day's program. While the results were being recorded, all candidates were gathered to line up neatly in the huge dojo. Meanwhile, the examination staff tapped on the shoulders of those who did not pass the last subjects and instructed them to leave the lines.
A closing speech was given by the President of Kanagawa Kendo Federation but I was not able to process his words, figuring out that I passed the examination but not being able to demonstrate my joy. Just as in other Japanese martial arts, it is important for Kendo practitioners to not show joy of victory as we are expected to respect those who did not win, and in this case those who could not pass the examination.
With trembling hands, I went to receive a provisional certificate to keep until I received the official one at a later date.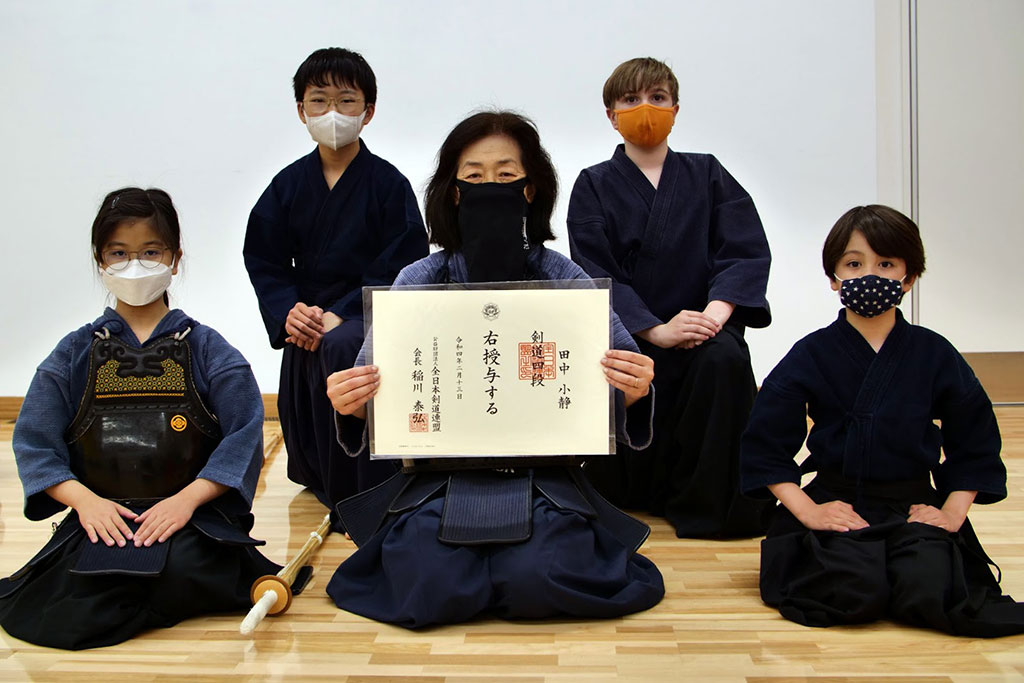 Holding my official 4th dan certificate with a group of students from the Saint Maur Kendo Club.
In the last 50 years at Saint Maur, there have been (probably) 4 Kendo Clubs. The first one was in the early 1970s which lasted for one year, according to the school yearbook. The next one was founded in 1976 and that lasted for 5 years. A prominent female Kendo practitioner, Takano-sensei from Takano Dojo and a 7th Dan Tada-sensei were invited to coach.
The third one is ES Kendo Club which was founded in 2005 and is still active. 7th Dan Michishita-sensei, the Head of Namiki Kenyukai coached us for 5 years until 2019. Another one was founded in 2008 by a group of HS students who had no choice but to practice on the school roof, and it was active for just one year. However, two of the members assisted me in coaching ES Kendo Club during the following 2 years until their graduation in 2011.
Saint Maur Kendo Club Highlights
This year, we were able to have our weekly practice in Activity Room 3 where there is a beautiful bouncy wooden floor, ideal for Kendo. Eleven Elementary students from Grade 2 to 5 practice the basic swings and footwork in their Kendo outfit of dogi and hakama. Some students are already practicing with bogu, or the full Kendo armor. We are also aiming to issue Kyu Rank Certificates at the end of Summer Kendo Clinic.