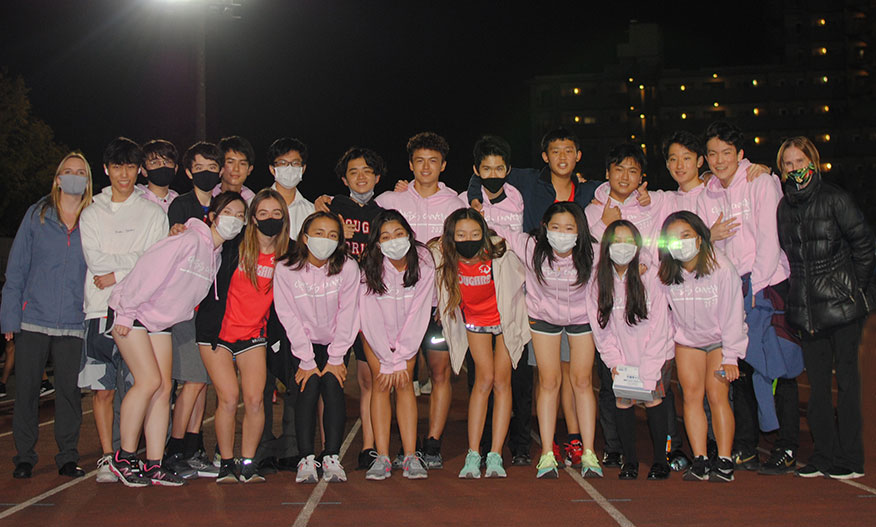 Anna Novick
Records fall at Cross Country Finals
The High School Cross Country team attended their final race of the season on Thursday. This was the last race for our Seniors, many of whom have been on the team since Grade 6. Although spectators could not attend due to COVID safety measures, the race was live-streamed (see below) for parents and the community to cheer our runners on.
There were many excellent performances, but here are a few that stood out:
Jun ran with the top boys for the entire race, sliding in at 16:50 for a 20+ second PR in the 5000m.
Yuki also ran relentlessly for a 18:17, for a 18 second PR.
Ryo came in at 19:24 for an 6 second PR, followed by Kyo who ran a 21:03 for a 21 second PR. Kole, despite running alone for the last three quarters of the race came in at 22:06 for a 19 second PR.
In the girls, Akari ran 23:24 for a 15 second PR. She hopes to chip away at her time in the next season.
Riko pushed hard throughout the race and ran a spectacular last lap to finish in 23:41 for a 36 second PR.
Clarys had a goal of breaking the 25-minute mark, and finished with a strong kick in 24:57, a 15 second PR.
Moeran 25:21 for an 18-second PR and still had enough energy to smile at the end of the race.
It has been a pleasure to coach such a resilient and motivated group of runners. We would like to give a special thanks team our manager, Himari, for her dedication to the team as well!