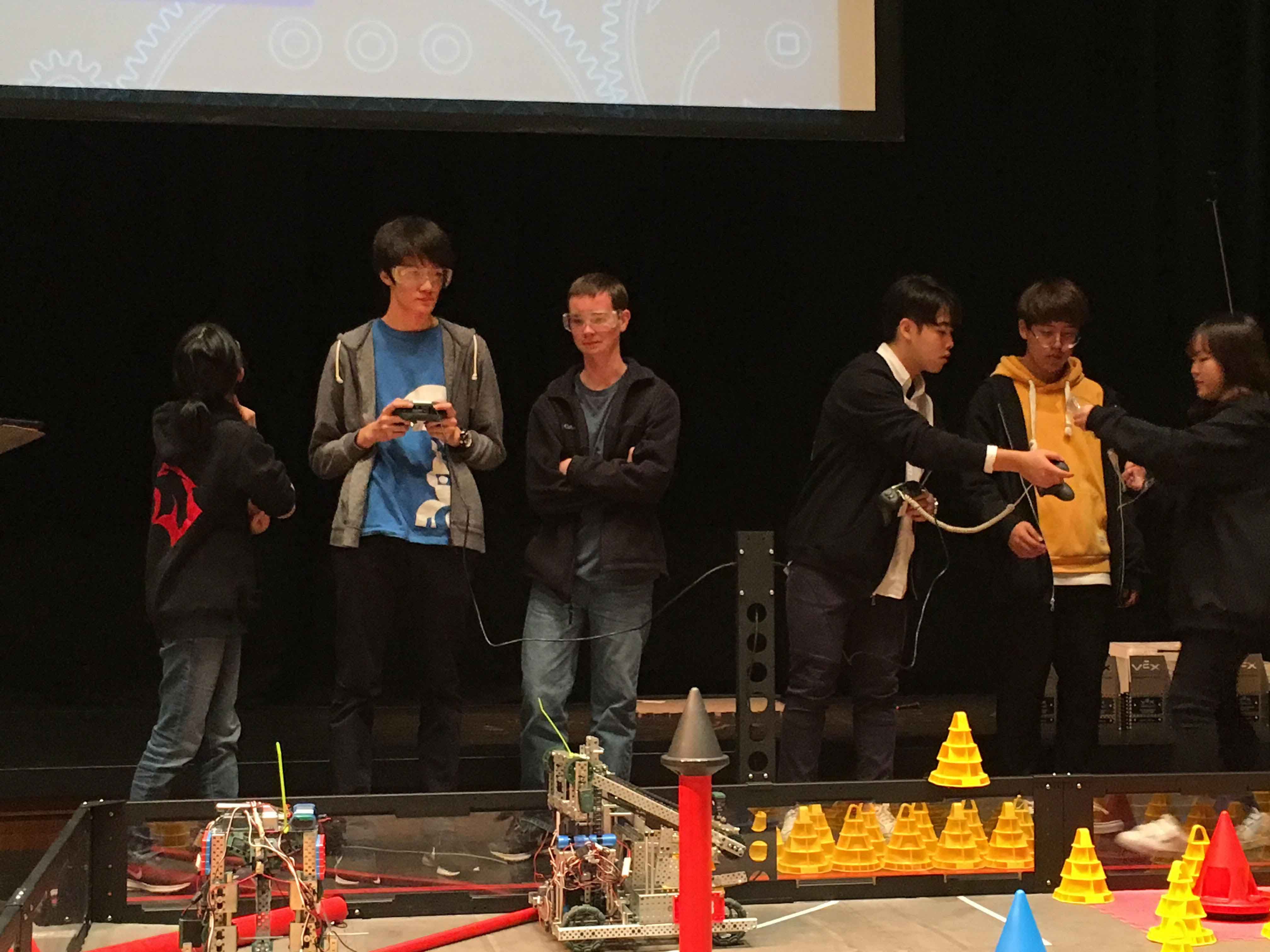 John (Grade 12)
Saint Maur Compete in VEX Robotics Tournament
This year, the Saint Maur robotics club again participated in the VEX tournament at ASIJ. This year we entered two teams with different robots.
The game itself consisted of stacking cones on top of mobile goals and stationary goals; the mobile goals could be moved into various zones for bonus points. There is also an autonomous period at the start of every game where the robot runs off its programming without any user control.
Both of our two teams focused on transporting the mobile goals into the zones, as we decided they were worth more points for the effort required. However we only found out that we could enter the second robot about two weeks before the competition, yet we were still able to finish constructing the robot and compete with it.
Although we had functioning robots at the competition, neither of the autonomous periods worked, so we had to work that out at the venue. Although the autonomous worked quite well on the practice field, it was inconsistent and failed in the actual games, which was somewhat disappointing.
For the first team, although we didn't rank that high overall, we had a total score of 201 points in game, which was higher than many of the high ranking teams, but due to the lack of a working autonomous and some alliances that did not complement our strengths, we ranked relatively low. The second team also ranked relatively low, but since they had very little time to actually build the robot, it was very impressive and still a success.
After the seeding rounds, the alliances for the finals were decided. Since we were ranked pretty low, there was a slim chance of being chosen, yet both teams were chosen as part of an alliance, which made everyone (or at least certainly me) very happy. Although we stood no chance against teams such as the Hawaiian or Chinese teams, we still put our best effort in.
Overall, even though we did not perform as well as we hoped in some respects, I am still very impressed and satisfied with all we could achieve in regards to both teams. We can't wait to hear about next year's game.